How to Run an Instagram Audit in 8 Easy Steps
Are you ready to do a little bit of Spring cleaning? Whether it's your first month on Instagram or you've been on the platform for years, you can always benefit from running an Instagram audit!
Auditing your account is an awesome way to reassess your goals, update your strategy, and make sure that the effort you're putting in to Instagram is actually helping your business.
Not sure where to start? We're going to cover how to run an Instagram audit in 8 easy steps.
1) Evaluate Your Goals for Instagram
Put down your phone because we're not even going to look at your Instagram account yet. First, we need to establish what your goals are for Social Media and your business as a whole — and do they align with each other?
Your business goals and your social media goals should always complement each other.
For example, if your overall brand goal is to solve a particular social problem, your social media goal may be to raise awareness about the problem first.
If your business is brand new and your focus is on getting your name out there and finding target customers, your social media goal is most likely going to be follower and engagement growth. If you've been around for awhile, your Instagram goal may be to generate more website clicks and online sales.
Once you know your goals for Instagram, you need to figure out if you're crushing them. You can measure your progress and success by looking at your Instagram Analytics — which we'll talk about later in this article!
2) Keep Your Branding Consistent
Now that you've established your goals for Instagram, it's time to look at your branding and voice on the platform.
You don't want people to land on your page and be confused about who you are as a brand. Your Instagram page should be a representation of your overall brand voice — and be consistent with your other marketing. It should look, feel, and sound like everything else you do to market your business.
Do you have branding elements — a logo, color palette, icons, fonts, etc. — that are consistent across all of your marketing channels? If your brand already has an established voice, it should be easy to incorporate this into your Instagram presence. If you're brand new to the game, you need to develop these elements ASAP.
3) Review Your Bio
Your Instagram bio is incredibly important for capturing the attention of your audience and keeping your branding consistent.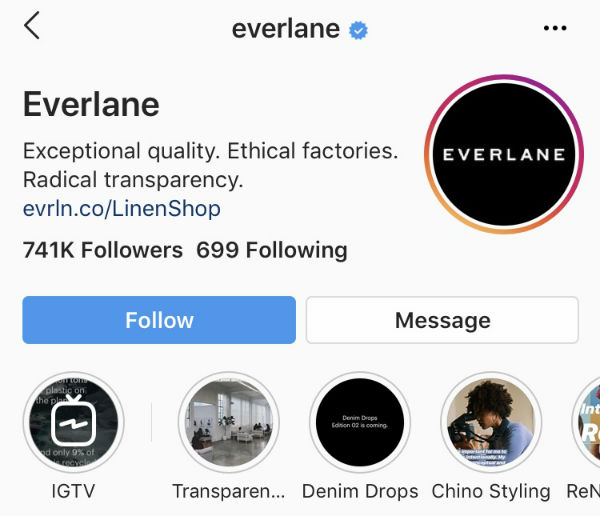 You're limited to just 150 characters so you need to keep it accurate, succinct, and on-brand. Explain what your business is/does and where you're located if you have a physical location.
Just like everything else on social media, you need to keep it simple. Let people know exactly what your business does and don't overthink the rest. The most important thing is that you make it easy for people to figure out what you're offering them.
Another important part of the Instagram bio is your website link. Instagram only gives you one clickable link on your profile, so you need to make sure you're getting the most out of it.
First of all — does it work and is it current? Dead links or links to products that are no longer available will only make your business look bad. Consider swapping your link out once in awhile when you have fresh content or an exciting product launch you want to share with your audience.
4) Take a Look at Your Content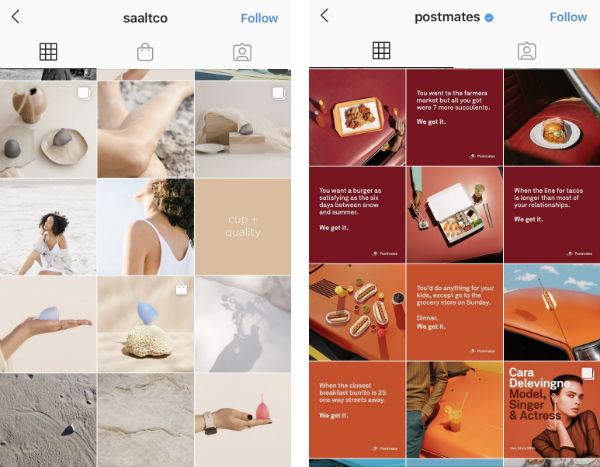 One of the most important things you can do to grow your Instagram account is to consistently post great content. What is great content for a business?
First, make sure your photos and videos are high enough quality. Nobody is going to click that follow button if all they see are pixelated, low-resolution images. Proper lighting and a good camera – yes, your iPhone camera works just fine – are going to make a huge difference. In addition, Instagram recommends that all photos uploaded be at least 1080 pixels wide with an aspect ratio of 4:5.
Second of all, your audience should immediately understand what you're offering based on what you post. The most recent 9 posts on your Instagram feed should always feature at least one post of your physical product if you're in ecommerce. Don't make your audience dig through your profile to find out what you actually sell.
The third part of having great content is standing out from the crowd. Develop a unique theme for your account that sets you apart from your competition in some way. This could be a color palette, a photography style, or another aesthetic that people can immediately identify your brand with.
And finally, make sure your content is relevant to your audience. No matter how beautiful your pictures are, if your audience doesn't care about your content, it won't help you achieve your business goals. Identify who your audience is, what they care about, and how your brand fits into their lives.
Just remember, you need to have a good mix of content. Take advantage of all of Instagram's post formats, including videos, photo posts, carousel posts, and IGTV previews. You should also switch off between promotional content, non-promotional content, user-generated content, quotes relate to your business, etc. Nobody wants to follow you to see your product over and over again. Your feed should be a well-rounded representation of your brand.
5) Check Out Your Instagram Analytics
Understanding how your content performs is crucial to developing a successful content strategy for your brand – and there's a lot more to it than the amount of likes you get!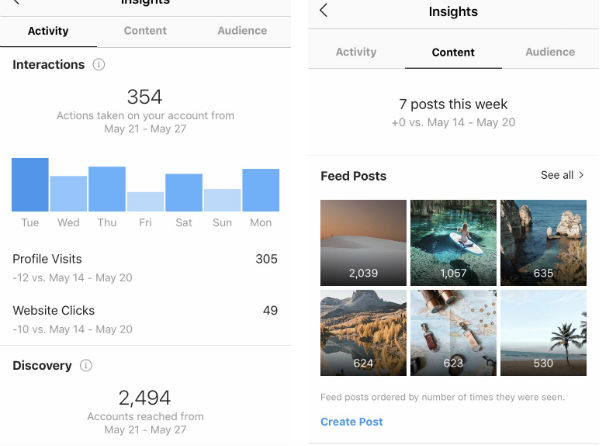 You should always be keeping an eye on your Instagram analytics page – including posts, stories, and IGTV.
Tracking your Instagram analytics not only helps you when strategizing for the future, it also tells you where you should be spending the most time. If your IGTV posts are gaining a lot of traction but nobody is watching your stories, you may want to invest your time into growing your IGTV audience and less time on stories.
Take the time to review your Instagram post by post. See which posts are performing well and which ones your audience doesn't respond well to. Identify what aspect of that post is causing a particularly good response – the caption, color scheme, subject, etc. – and focus on creating similar content in the future.
Remember when we talked about setting goals for your business and social media channels? Now it's time to take those goals and figure out how to track them.
If your main goal is to drive traffic to your website, you will want to focus on Website Clicks. If your business is centered around community, you should keep a close eye on engagement and comments. If you're not sure what your goal for the platform is, play around with your content and see how your audience responds.
6) Re-Evaluate Your Growth Strategies
The Instagram algorithm is evolving all the time. With new brands on the platform every day, Instagram is more competitive than ever. The growth strategies that worked last year or last month may not be the most efficient ways of growing in 2019. If your growth has slowed down it may be time to reevaluate your strategies.
One way of getting your business in front of a new audience is by collaborating with another brand or business. Find a few like-minded brands that have similar target audiences to yours and ask them if they would be open to teaming up. You can collaborate by doing story takeovers, partnered giveaways, a product line together, etc.
Another way of gaining traction is by partnering with influencers to create sponsored content. Influencer marketing has exploded in recent years because it's an amazing way to build trust and loyalty with potential customers. Influencers act as an ambassador for your brand to get their followers to check you out.
However, don't just send your product to a random influencer and expect to make a bunch of sales. The key to making influencer marketing work is by creating a long-lasting partnership. Try out different growth tactics like giveaways, takeovers, sponsored posts, etc. The more your product shows up on the influencer's profile, the more likely their followers are to trust that they actually care about your brand.
Are you getting the most out of Instagram stories? If you haven't already started using hashtags and location tags in your stories, you're missing out on a lot of growth potential. Most geo-locations and hashtags have their own stories attached to them to. Anyone who is searching for a location or hashtag can see your recent stories that use that tag, even if they aren't following your account. Brands are not yet taking full advantage of this feature of Instagram, so you can still be ahead of the game!
7) Give Hashtags Some Attention
Love them or hate them, hashtags can make a big difference in your Instagram game.
Did you know that posts with at least one hashtag average 12.6% more engagement than posts without? That means they're a great way to grow your Instagram and get your posts in front of new eyes.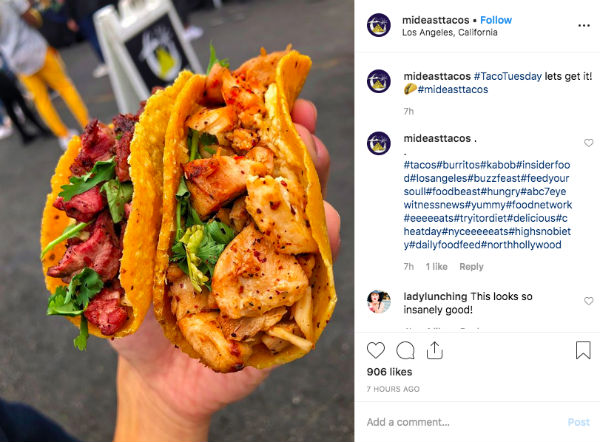 The most important thing to consider is whether you're using the right hashtags for your business and goals. Use specific hashtags in your niche to make sure your post gets the attention it deserves. If you're still using broad hashtags like #food or #business, your post will immediately be buried under a sea of other posts using the same hashtags.
One thing you may not know is that there are banned and broken hashtags. Instagram bans hashtags when there are too many tagged posts that violate their community guidelines. You should be regularly checking the hashtags that you use to make sure you aren't using any banned ones.
8) Check Your Engagement
Engagement can look different for different accounts, however, it ultimately comes down to having a conversation with your audience. You need to make sure your audience feels like you care about them and that they're being listened to.
Make sure you're responding to DMs and comments in a reasonable time. If people are taking the time out of their day to engage with your profile, you should always acknowledge them. Check out your older posts once in awhile and see if there are any comments you missed. Scroll through your DMs and make sure none of them went unread.
Keep track of your most engaged followers – the ones that regularly comment on your posts, respond to your stories, and send you DMs. Be sure to return the love once in awhile and engage with their content. Want to show them some extra love? Send them a physical gift in the mail, offer a discount, create something custom for them. They'll be a customer for life.
Another way of showing appreciation to your community is by post user-generated content. When you repost content from your audience, you're giving a fan some extra attention and making them feel heard.
Final Thoughts
So there you have it – 8 easy steps you can take today to run an Instagram audit!
No matter how experienced you are with Instagram, it never hurts to take a step back and reevaluate your goals for the platform. After all, you're putting in the time and effort, make sure it's actually beneficial to your business!
Whether it's your branding, growth strategy, content, or engagement, auditing your account is a great way to build a better Instagram profile.