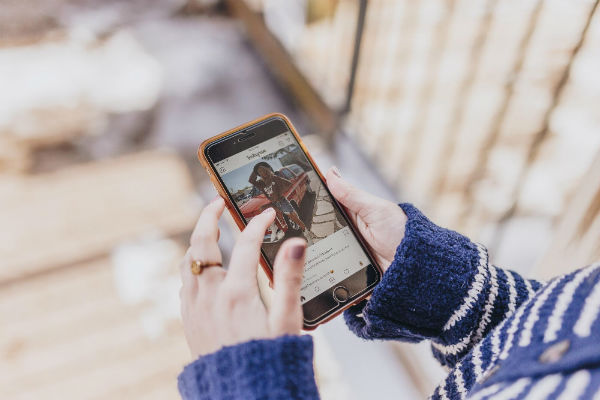 Good Instagram captions can make or break your Instagram marketing efforts. And yet, their importance is often overlooked.
Captions drive engagement, connection, and trust with your customers and potential customers on Instagram. However, many brands and businesses have the "anything goes" mindset when it comes to writing captions on Instagram.
There are thousands of articles that claim to have the best tips, tactics, and hacks to writing good Instagram captions. There are a lot of great tips out there but there are a lot of really bad ones as well.
With so much information (and misinformation) out there, we wanted to share with you 5 big myths that are floating around about Instagram captions – and why they're just not true!
Let's get started!
Myth #1: Instagram Captions Don't Matter
Many Instagram users wonder if writing a good caption is worth it. For two reasons, the answer is a big fat yes!
Instagram captions engage people more.
Yes, having high quality images and videos is incredibly important. However, captions provide context to images and gives your audience an even stronger connection to you and your brand.Words have the power to build a connection with your audience far more than just a pretty picture will. Captions make a post more interesting, inspiring, and engaging for your audience.

So, how do you write captions that engage your audience?

Start by learning about your audience and figuring out what they care about. Then figure out what kind of value you want to provide to them – a good laugh, a certain emotion, useful information, etc.

Finish it off with a Call to Action (CTA) to encourage even more engagement. This doesn't mean only using CTAs like "check the link in my bio" or "sign up for our newsletter". You can also ask your audience to give their opinion, share their favorite ice cream flavor, or tell you about their most embarrassing first date. It's all about connecting to your audience better and helping them identify with you more as a person and as a brand.

Quality captions are good for the Instagram Algorithm.
Everyone talks about how to get on the Instagram Algorithm's good side – posting consistently, engaging more, posting at the right times, etc. But one important way of garnering favor with the dreaded algorithm is to post good captions.

The more time people spend on your content, the better you will look to the Instagram Algorithm. Your content will be flagged as being more valuable, interesting, and worthwhile than what your competition posts. This will cause you to rank higher on your followers' feeds and on the Explore page.

The Instagram Algorithm is becoming increasingly hard to master, but there's no question that the more people care about your posts, the more Instagram will show your posts to them. If people are constantly sticking around your posts longer, clicking "read more", visiting your profile, engaging with your stories, etc., your engagement is going to go through the roof!
Myth #2: Posting A Good Caption Takes Too Long
A lot of brands and businesses have a hard time using Instagram because they think it will take too much time. Social media marketing is a time investment. But it doesn't have to be a big one! There are plenty of free tools that business owners can use to become more efficient with their time on social media.
Scheduling apps like Preview, Later, or UNUM allow you to schedule your posts ahead of time with the captions already drafted. Schedule your entire content calendar for the month in only one day's work!
If you have a hard time coming up with captions for your posts, there are apps that give you caption suggestions. Apps like Caption Expert, Captiona, InstaCap, etc. allow you to choose captions from various categories. In a pinch, you can also just grab a relevant quote that will resonate with your audience. Try not to rely too heavily on these apps and tools. They're a great back up option if you're short on time but use them sparingly or else your content will lack personality and originality.
Myth #3: Using Too Many Hashtags Looks Spammy
There's no getting around it – Instagram captions that feature hashtags drive more engagement than those without them.
However, many articles say that you shouldn't include more than 5-7 hashtags in your post to avoid looking spammy and getting on the Instagram algorithms bad side. However, there is no proof that this method does anything other than limit your reach.
Instagram allows up to 30 hashtags per post. Don't pass up this opportunity to get your content in front of a large audience of fresh eyes. We recommend using between 15-27 hashtags per post. Why such a random number? Well, using slightly under the allowed 30 hashtags gives a little room for people to use hashtags in the comments. It also gives you a little bit of wiggle room just in case you count incorrectly.
Now, writing out 27 hashtags every single day sounds like a big task. However, you can definitely save a few different groups of hashtags in the Notes app on your phone and just copy and paste them into your caption when the time comes to post. Make sure you switch up your hashtag groups with every post so that Instagram doesn't mark your account as spam.
If you're worried about your caption looking messy, add a few rows of spaces or periods before listing your hashtags so that viewers can't see them unless they click "more". Alternatively, you can paste your hashtags in the comment section of your post to hide them completely from your caption.
Myth #4: Longer Captions Are Always Better
Sometimes it's okay to let your pictures speak for themselves.
Long captions are helpful when it comes to storytelling and connecting with your audience – but there's a time and place for shorter, minimalist captions as well.
There are many reasons why it may be more beneficial to post a picture with a very short caption. If you're posting a bold or striking image, keeping your word count to a minimum helps highlight the image and keep the attention there rather than the caption. If your image contains words, you may not need a long caption because the focus is meant to be on the picture.
For example, this caption from Forever 21 doesn't need a high word count to pack a big punch: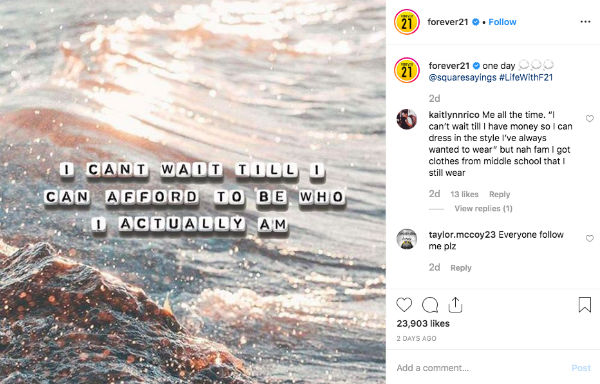 You also need to take your ideal audience into account when you're crafting your captions. For example, if your target audience is comprised of stay-at-home moms, it's not likely that they have the time or desire to read an essay when they're running around with their kids during the day. Your best bet would be posting longer captions early in the morning or later in the evening when they've put their kids to bed.
On the other hand, if your target audience is made up of high school aged kids, you may want to post longer captions in the mid-afternoon when they are getting out of school and checking their phones in the afternoon.
Knowing your audience is essential to every aspect of what you do on Instagram. Make sure you're being mindful and understanding what your audience is hoping to get out of your posts, and adjust your captions accordingly.
Myth #5: Businesses Should Keep It Professional – Don't Show Personality
This one is all about knowing your audience.
The person on the other side of the phone screen – who are they and why do they use Instagram? Chances are, your audience is comprised of normal, everyday humans who are looking for inspiration, entertainment, education, and to see what their friends and family are up to.
Very few people are opening up Instagram to be sold a product or service. That's not to say that you can't use Instagram as a tool to sell – it's an incredibly powerful tool to use to attract potential customers and engage with current ones.
People want to do business with people, not companies. Showing your personality on Instagram isn't going to make you appear unprofessional, it's going to make you appear human. It's going to allow your potential customers to connect with your brand in a way they just couldn't with a faceless, voiceless corporation.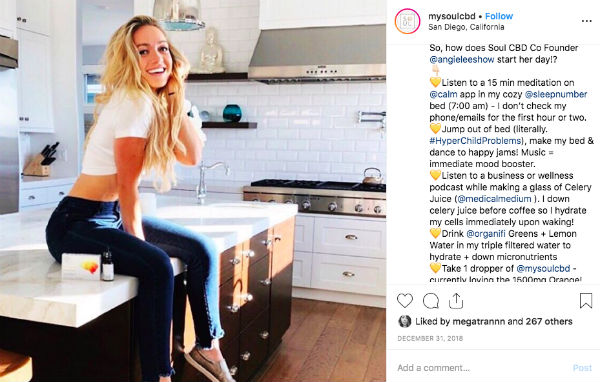 This personality should shine through your unique images and quality captions. However, it also needs to be consistent with your brand voice in your emails and your website copy. Don't confuse your customers.
Instagram is a great tool to let your brand personality shine through. Don't make the mistake of going for the hard sell before letting people get to know you first!
Final Thoughts
There you have it. The 5 biggest myths about Instagram captions – shattered!
There's a lot of information (and misinformation) out there about Instagram captions and the best way to use them. However, the most important thing is always to remember who your audience is and what value you can bring to them through your captions!