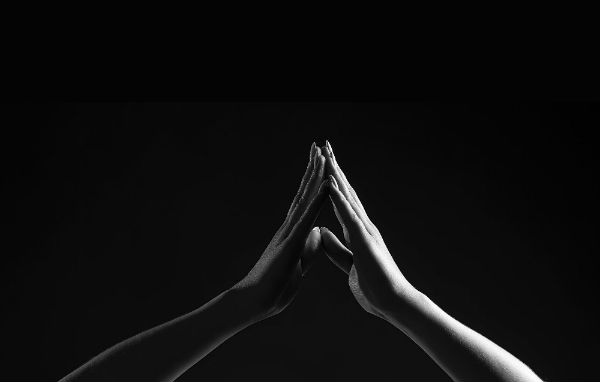 Do you remember when the only interaction you had with a business was at the checkout counter or service desk?
With the rise of businesses using social media marketing, today's consumers are beginning to base their perception of a brand on the personal connections and meaningful moments they have with it. Brands that are using social media effectively are using it to build personal connections and brand loyalty.
When you build relationships on social media, your followers are more likely to become customers. In today's post we're going to teach you 9 tricks to building meaningful relationships with customers on social media.
1) Establish a Brand Voice
Social media is an intimate way to connect with your customers and followers. It's important to establish a consistent brand voice so that people feel comfortable interacting with you. If you mix your messages, you become unreliable and confusing.
Not sure what your brand voice should be? Take a look at your company values and your mission statement and figure out how to incorporate that into your day-to-day messaging. Are you going to keep things professional or use a lot of emojis and exclamation points? Will you add humor to your posts or is your brand image more serious?
These questions can be difficult if you're just starting out. However, when businesses develop and stick to a brand voice, social interactions become much easier for both the company and the customers.
Taco Bell does a great job of adding humor to their brand voice. This creates a personal connection with everyone they respond to.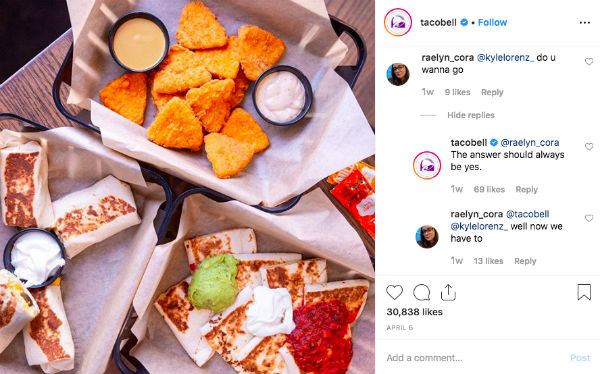 2) Show Your Human Side
Social media is a complete game-changer when it comes to marketing because it's a place where you can showcase your brand in a very human way. Human beings connect with other humans, not with faceless corporations. We've already talked about establishing a "voice" or personality for your business — now it's time to give it a heart!
Here are a few ways you can establish human connections with your customers:
Put a face to your name. Share your staff's pictures, stories, quotes, values, favorite pizza toppings, etc. Don't be afraid to get silly with it! No matter what, you'll be giving people a way to connect with your brand on a more personal level.
Get behind-the-scenes with video. Video is king right now in social media, with new ways to share videos coming out all the time. Facebook Live, Instagram Stories, IGTV, Snapchat, YouTube, Instagram Live, etc. Videos allow you to give a behind-the-scenes, unfiltered view of your business.
Answer Q&A's often and publicly. If one person asks a question, chances are there are many others who have the same questions. Don't shy away from answering these publicly. You'll be providing your audience with helpful content that will feel personalized to them.
Joke around with your customers when appropriate.
3) Share Relevant Content
Social media is like an extremely powerful megaphone. You can reach people quickly and efficiently. However, if no one cares about what you're posting, all your yelling is going to fall on deaf ears. If you're interested in learning how to post content that provides value to your customers, give this article about Attraction Marketing a read.
To sum it up, you need to put your audience's needs first. Figure out exactly who they are, what problems they face, and how you can help them solve those problems. Always be asking yourself if what you're posting will inspire, entertain, or empower your audience in some way. If your audience finds value in what you post, they'll stick around.
Later Media regularly posts helpful captions that provide tips and tricks for their customers to use to get the most out of Instagram. They're not selling their service in every single post, but rather giving people valuable content so they feel cared for and heard.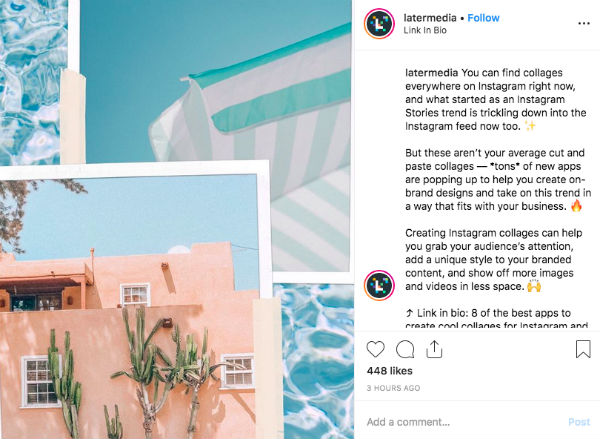 4) Listen to Your Audience
One of the greatest benefits of social media is that it is a place where you can hear from your customers directly. Unfortunately, many businesses still see social media as just a place to sell their products. Those businesses might get a few sales from being active on social but they'll miss out on building the relationships that lead to brand loyalty and word-of-mouth advertising.
So how can you flip the script? Put down the megaphone for a minute! Focus on LISTENING to your customers before you start yelling into the abyss. Ask them what they want to see from your company and really listen to their answers! Post relevant content that actually provides value to them. Try to solve their problems through your knowledge or products.
And what about those people who only connect with brands to call them out for something? Well according to a study into call-out culture by Sprout Social, 55% of of people who call out brands on social just want to be heard. Make sure you listen closely!
5) Respond Quickly and Consistently
Listening is only half the battle. You also need to respond to what people are saying.
Your customers expect quick responses to their questions and comments. Decreasing your response time not only meets your customers' expectations, but also positions your business as one that customers can rely on. Don't underestimate the power of being there when a customer needs you. People will pay more for a brand that cares. According to a report by Twitter, customers were willing to pay $20 more per fare for airlines that responded to Tweets in 6 minutes or less. People will pay more for a brand that cares.
What happens when you don't respond quickly? On social media, you always have a risk of someone else taking control of the narrative. If customers are unhappy, their feedback can go viral almost immediately. It's important to react to negative posts as quickly as possible to minimize damage. This demonstrates that you're listening to the complaints and that you care enough to try to make things better.
6) Make Personal Connections
Yes, it is important to respond quickly. However, an automated message response is often not enough. Your customers can tell when they are talking to a real person vs. a bot message. Bots can be useful to show your customers that you care about their question or problem, but they need to be followed up with actual human correspondence.
In order to build connections on social media, you need to be personalizing your conversations with customers. Use their first name if it's available on their profile, be friendly and let your customers know you care about what they have to say, and sign your messages with your name.
Your customers should be left feeling happy that they reached out to you. If you can, try to always send the last message. Even if the question or comment has been resolved, tell them you're happy to help them resolve any future concerns.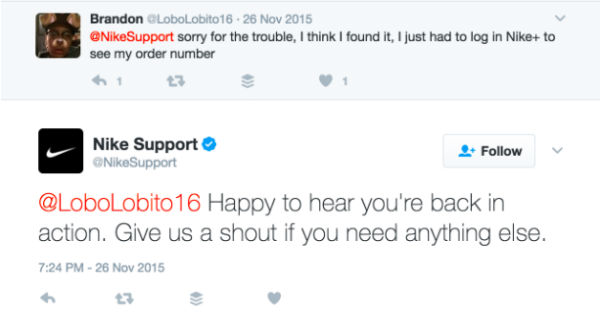 If no one is starting the conversation with you, there are many ways you can take the first step and engage with them.
Initiate or contribute to ongoing conversations in comments.
Favorite, retweet, and like your followers' posts. Comment on their posts when you see something funny or relevant to your brand.
Use trending hashtags to show up in more people's feeds. The more people see you, the more they'll want to know about your business and what you do.
Want to learn more about increasing engagement? Check out this article we shared about increasing engagement on Instagram.
7) Embrace Feedback
Social media is your best opportunity to actively listen for both positive and negative feedback. A study by Lithium Technologies found that 70% of respondents expect to hear back from the brand they're interacting with on Twitter, and the majority of them expect a response within an hour. Your audience wants you to know what's going wrong with your company so that you can make it right.
Rather than ignoring or deleting negative comments, you should be embracing them and using them as an opportunity to create brand advocates. If you respond quickly to these complaints and pain points, you could turn even the most unhappy customers into loyal fans.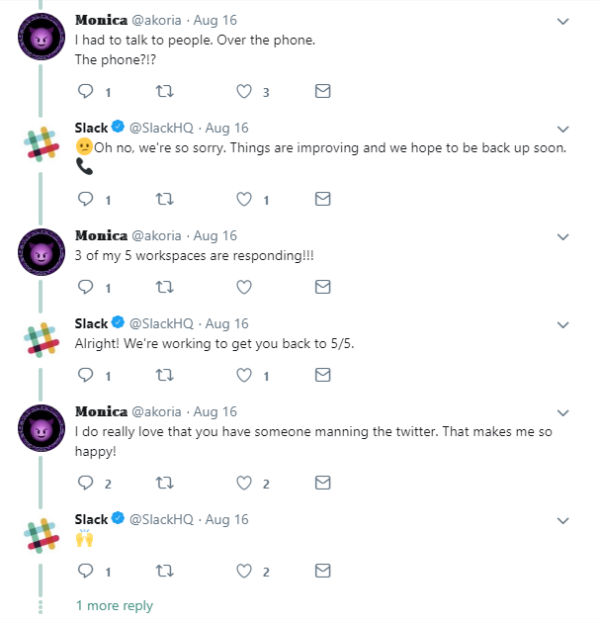 At the same time, showing love to your biggest fans is just as important. Take the time to acknowledge and even reward the customers who are advocating for your brand. This will create a greater sense of community with your customers and allow them to feel like they are a part of the narrative!
8) Share Customer Stories
If you want your customers to be your biggest brand advocates, you need to show them that their opinions and views matter. One great way to do this is by sharing user-generated content. Repost content from your customers and give them a little shoutout. User-generated content tells your customers that you see them and acknowledge them. It also allows them to feel like they're a part of your brand community.
Starbucks does a great job of this by regularly sharing their customer's pictures on their Instagram account.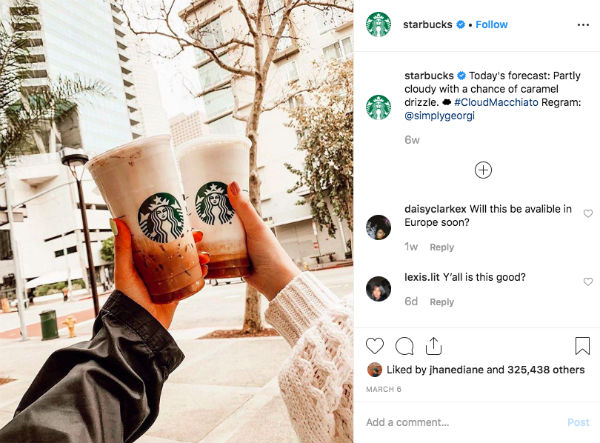 Just remember – if you do repost any content, you need to give credit. Not only is it the right thing to do, but you WILL be called out if people find out you've taken someone else's content without giving credit where it's due.
9) Reward Your Customers
Remember, your customers are choosing you over all the other brands out there. It's important to show them how much you appreciate them.
One way to reward your followers is by holding competitions and giveaways. On Facebook, you can have customers share photos that highlight your products to enter the contest. Giveaways on Instagram can expand your brand reach because you can ask people to tag a friend in the comments for a chance to win.
Remember, the goal isn't to bribe your customers into sharing your brand. You should be rewarding your customers because they deserve a little love. Generating extra buzz about your company is just an added bonus!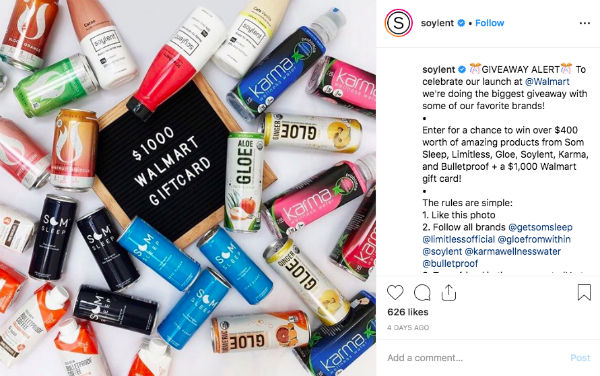 There are plenty of ways to reward your customers that don't involve giveaways. Here are some great ideas to give a little of the love back:
Start a 'customer of the month' series or give shoutouts on Instagram stories to customers who share their feedback.
Offer a discount code to your followers.
Include a free gift with purchase for a limited time.
If you have a physical location or have access to a venue, host exclusive events for your your followers on your most active social platforms.
Remember, rewarding your customers takes a little effort in the short-term. However, you'll benefit from happier customers and a more loyal following in the long-term.
Now it's Your Turn!
Customers want their brands to understand and care about them before, during, and after they buy from them. Social media is the perfect place to start those conversations and build relationships with your customers. Make sure you're always looking for new and innovative ways to build genuine relationships with your audience.
Value those relationships, nurture them, provide value, and hopefully they'll think of YOU when they're ready to buy.