Instagram Stories have recently exploded in popularity. It's estimated that over 400 million people use Stories daily. But it's not all dog filters and mirror selfies!
Did you know that Instagram Stories are actually a great tool for growing your engagement, building brand awareness, and driving traffic to your website?
By prioritizing Story content and adding fun and engaging features, Instagram has actually been pushing hard for brands and users to utilize this aspect of the app. So what should that tell us? Stories are no longer just a fun way to share things with your friends. They're a staple of Instagram marketing and they're here to stay.
Ready to get started with Instagram Stories?
We're going to break down exactly how to use Instagram Stories for your business or brand. We'll cover everything — what Instagram Stories are, how to use them effectively, and what to post to captivate your audience and build engagement. Let's get started!
What Are Instagram Stories?
First thing's first — let's go over exactly what Instagram stories are and why they're so important.
Instagram Stories are essentially a response to the popularity of Snapchat's "self-destructing" style of content. Stories allow you to share short clips of content that disappear within 24 hours of being posted.
Story content can include static photos, video, or text. Instagram has also added features like special filters, polls, question & answer boxes, GIFs, time stamps, and much more to the Stories portion of the app.
Instagram Stories — when used correctly — are like a secondary, exclusive feed of content for your most loyal followers. Story content is often more real, raw, and spontaneous than traditional Instagram posts, which give them a totally different feel for your followers.
Instagram does allow you to save your Stories to your homepage to turn them into permanent content in the form of "Highlights." These are typically the Stories that are the most important to your brand narrative. For example, your brand's mission statement, your line of products, an important tutorial for using your products, etc.
Why Are Stories so Important?
Now that you know WHAT stories are, you may be wondering why you NEED to be posting them. Story content is actually prioritized by Instagram. When your followers open the Instagram app, Stories are the first things they see because they are located at the top of the page.
Instagram has also made it possible to access stories from many other places on the app. When someone sees that purple circle around your profile picture, they can click through to your stories from their home page, your profile, or even the notifications page.
Stories also create a sense of urgency and scarcity around them. As we mentioned before, they are only available for a limited amount of time. Instagram users are more likely to click through their stories before even looking at traditional posts because they want to see them before they go away.
With their time-sensitive nature and the creativity they allow, there are plenty of ways that businesses can take advantage of Instagram Stories. However, a lot of people aren't sure where to start.
5 Ideas for Instagram Stories for Businesses
1) Behind-the-Scenes Looks
One of the things we love the most about Instagram Stories is that they don't have to look polished and professional. In fact, many bloggers and companies use Instagram Stories to give their followers a look at the real, raw, and non-glamorous side of their lives/businesses. Stories allow brands to take their followers along with them for the day-to-day or to showcase special events and conferences.
2) Time-Sensitive Offers and Promos
Stories are a great place to promote limited-time offers, sales, or giveaways. Because they disappear after 24-hours, you don't need to clog up your feed every time a product goes on sale.
When you post offers on Stories regularly, you also encourage people to check your Instagram often for fresh deals and updates.
3) Special Announcements
Stories are a great place to release a special announcement about your business. You get the freedom to be extra creative in stories and you can tease your followers with sneak-peaks before you are ready to release the full announcement.
For example, Southwest used a Story to spark interest in their recent Shark Week promotion. They first teased their followers with a Story of someone in a shark costume and a little context that told them something exciting was happening.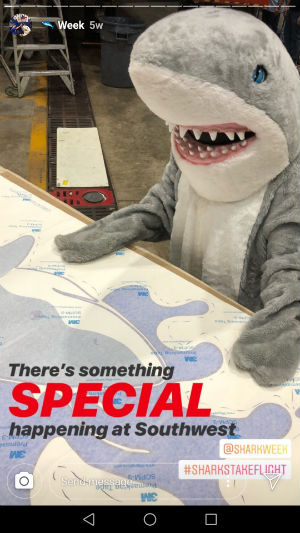 They later went on to reveal a new hashtag promotion #SharksTakeFlight that allowed followers to track their fleet of Shark Week themed planes in the air.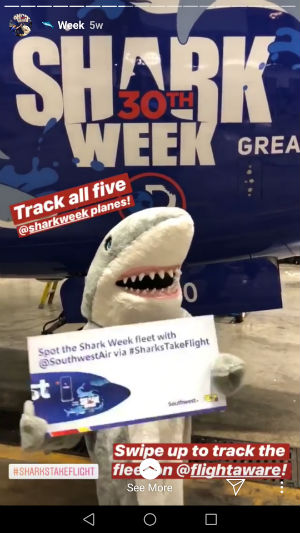 This playful promotion was a creative use of Stories to share a special announcement and capture people's attention.
4) Sharing Customer Photos
Many brands use Stories as another way of connecting with their customers and followers. One great way of doing this is to repost user-generated content such as tagged customer photos.
For example, followers of The Wander Club tag the brand in pictures using their branded hashtag #TheWanderClub and the company shares those posts on their story.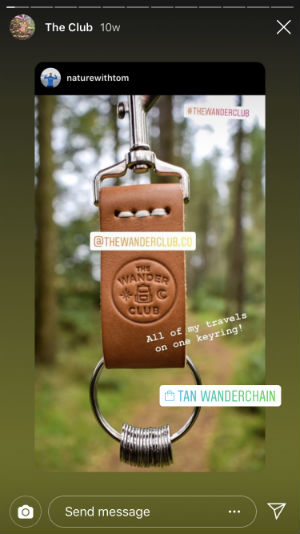 Stories are a great place to share user-generated content that may not go well with your current feed. You get to forge a connection with a follower while still keeping your feed aesthetic and clean-looking. You also encourage more people to tag you in their photos because everyone wants a shoutout. Win-win!
5) How-To's and Tutorials
Because stories post in a sequential format, they are the perfect place to post step-by-step tutorials and how-to content. People love getting value from what they consume on social media and providing them with bite-size educational content will keep them engaged with your story and feeling like they've gotten value from your page.
Need some ideas for how-to's or tutorials? Recipes, beauty tutorials, photo-editing tips, and travel planning tips are all great ways we've seen brands use Stories to educate their followers. The possibilities are really endless though!
As you can see, there is a ton of room for creativity when using stories for your business. Switch it up and try different strategies to see what your customers respond to. However, just because you can be creative doesn't mean you can do absolutely anything. We're going to go over some Instagram Stories best practices so that you can get more eyeballs on your page.
Instagram Stories Best Practices
If you want to get the most out of your Stories, there are a few things you need to make sure you're doing.
Encourage Followers to Watch Your Stories
Did you know that out of the over 1 billion active users on Instagram, only about 50% are using Instagram Stories daily? Even though Stories are incredibly popular, there are still a lot of people who aren't quite on board with them yet.
Make sure your followers know that you're posting on your Stories. Occasionally ask your followers to check out your Stories, especially if you're posting exclusive content on there. For example, film some behind-the-scenes Story footage for your next Instagram post and then point people to your Stories on the caption.
Make Sure Your Visuals are Compelling
It's no secret that Instagram is a highly visual platform. You know your followers love it when you post high-quality, well-lit images so don't treat your Stories any differently! Like with regular posts, you only have a split-second to grab people's attention so make sure your Stories encourage people to stick around by:
Always posting clear, well-lit pictures and videos
Including a defined subject to grab attention. A human face makes an instant emotional connection which encourages people to keep watching
Capturing something interesting or out-of-the-ordinary
Using bright, easy-to-read colors in your fonts
You're not going to tick all of these boxes every single time, but make sure every story you post is something you would be interested in watching!
Use Text Strategically
Make sure that any text you include on your Stories is legible. Feel free to experiment with fonts and colors but make sure you're not using something that might be tough to read on mobile (like yellow font on a white background).
Additionally, make sure you don't overwhelm your followers with too much text. Stick to a few lines per Story so that people don't get bored and click away.
More and more brands are realizing the importance of Instagram Stories for their business. So how do you make your voice stand out in the crowd? Next, we'll go over some tactics you can use to help your stories stand out among the competition.
Make Your Instagram Stories Stand Out
Use Other Apps to Make Your Stories Pop
Because of how popular Instagram Stories are, there are countless apps out there with features specifically tailored to creating interesting Instagram Stories.
Font packs, collage templates, animations, creative overlays, and more. Apps are a great place to turn to add a unique creative element to your Stories. Here are some of our favorites:
Unfold is a collage creation tool that makes Stories look more neat and elegant. Collages are great for Stories because they make it possible to share 2 or more photos and videos on the same screen.
Unfold is currently available for iPhone and Android. Some of the collage designs are free to use, however, you have to pay if you want to get the entire collection.
HypeType hypes up your Stories with stylish motion typography. You can also add music right from the same app.
HypeType is available for iPhone and Android and adds a watermark to all images unless you upgrade to a premium account.
Graphic design made easy. Canva is a free app that is really helpful for making beautiful graphic designs for beginners. You can create custom collages and add things like icons and fun fonts to make your Stories pop.
Canva is available for iPhone and Android.
Mojo video is one of the best apps for creating Instagram Stories. It allows you to turn your photos and videos into cool animations. It's a quick and awesome way to create video Stories for your account.
Mojo is currently available for iPhone only. It is another "freemium" app with some designs available for free and others for purchase.
Incorporate Interactive Elements
Instagram has added some really cool features like Polls and Question Stickers that instantly make your Stories more interactive. Involve your followers by asking them simple questions, requesting recommendations, asking for feedback on something, or running a fun quiz.
Remember, the more people interact with the things you share, the more likely they are to see it the next time you post something! More views = more engagement and ultimately more business!
Rather than spewing information all the time, let your followers be a part of the story by giving them a sort of call-to-action!
Need More Examples of Awesome Instagram Stories?
Still not sure where to start? No problem!
Let's take a look at 5 examples of awesome Instagram Stories and explain why they work so well.
Brand Transparency
We mentioned before that it's a good idea to take your followers behind-the-scenes to give them an exclusive look at some aspect of your business that they might not usually see.
The brand @girlfriend does an amazing job of this by giving their followers an inside look at how and where their products are made.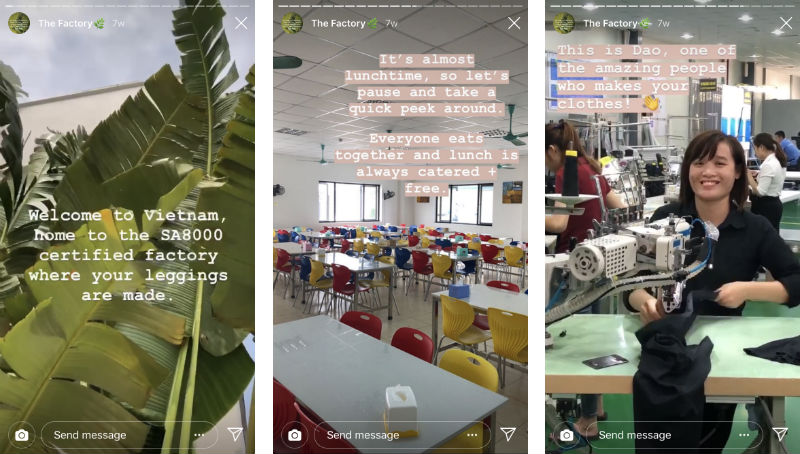 They filmed stories inside their factory where they make their clothes, a place that would normally be off-limits for customers to see.
By being completely transparent in every step of the manufacturing process, Girlfriend is able to gain the trust of their followers and customers. This leads to better brand loyalty and more return customers!
Takeovers
Sometimes the best way to do Stories is to let someone else do it for you! Have a customer or influencer take over your stories for the day and highlight they ways they use your product or service in their daily life.
One brand that is taking advantage of Instagram takeovers is @Aerie. Aerie recently collaborated with blogger @MissZias to show off some of their new line.
Takeovers are also a great way to gain new followers because generally the person taking over your Stories will post about it on their own Story and tell their followers to go follow your brand.
Hashtag Campaigns
Encourage your customers to share product pictures by creating a hashtag campaign. Come up with a branded hashtag that is specific to your business or product and tell your followers to share their pictures with that hashtag!
There are two reasons to do this:
It rewards your existing customers by celebrating them in front of your entire audience. When you make your customers feel special they'll feel a personal connection with your brand. This will make them more likely to recommend you to people they know.
Showcase your product or service in a more relatable way. By sharing the raw, unfiltered pictures you're tagged in, you're able to showcase your product in a way that lets people visualize themselves with it more easily.
Tutorial Stories
Like we said before, Stories are a great way to go step-by-step to teach their followers a new skill in a fun and informal way.
Brands like @sc (Sephora Collection) use Stories to create beauty tutorials for their followers and show them how to use their products.
Product Tease
Instagram Stories are an incredibly effective tool at giving people a tease or sneak-peak at a new product.
Post a "teaser" such as a super zoomed in photo, vague product description, or review and then direct people to your website to learn more. If you have more than 10,000 followers, you can include a link for people to swipe up to directly from the story.
Ready to Start Using Stories for Your Business?
Stories are an important part of any brand's Instagram presence. As Instagram begins to place more and more emphasis on Stories, the feature will only keep getting bigger. Businesses can have an edge on their competition by understanding the best practices for using Instagram Stories and staying creative on the platform!
Just remember: Stories don't need to be a big, formal production. With a smartphone, this knowledge, and some good lighting, you can start utilizing Stories for your business today.